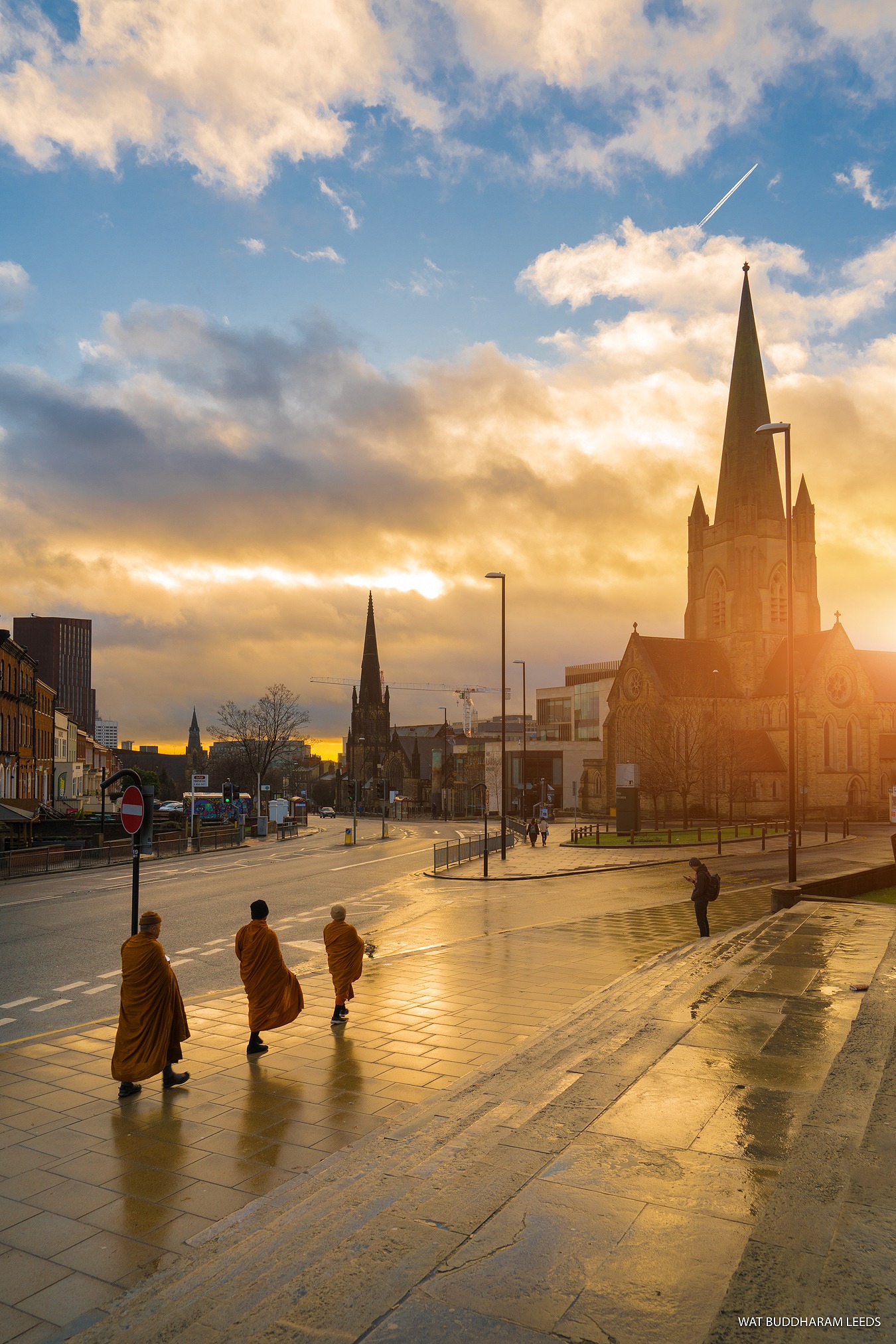 30 Mar

ALMS ROUND IN LEEDS

Leeds (West Yorkshire) is one of the biggest cities outside of London. Leeds is very diverse with more than 140 ethnic groups. Overall the minority population represents nearly 18% of the city's total population.

The diverse ethnicity has brought a variety of religions into this vibrant city.

I woke up early today as I had made an arrangement with Phramaha Akkaporn Suksanguan. He is a monk who has been serving the Thai community in West Yorkshire for almost 2 years. You can spot him from afar, not because of his bright orange robes, but because of his big smile and the kind angelic ora around him. Last time I met him, it was amongst those pedestrians in the middle of the city… The last time we met was in the city centre.

Every weekend the monks from Wat Buddharam Thai temple complete their morning alms walk round. This walk is an ancient traditional Buddhism ritual, which takes place in the middle of the city centre. They didn't stop to preach or try to convert you. They just walked barefooted on cold concrete floors – as wearing shoes would be considered a luxury in ancient times (however nowadays there is more flexibility).

Phramaha Akkaporn explained to me about the alms walk round or "Binda-Baht" in Thai. He said that the word came from the Pali language*, "Bindu" means a rice ball and "Bahta" means to put down or to drop. In the olden days (after Echopal date) the monks would complete early morning walks around the village. The laypeople would gently call the monks to stop by and put or drop rice balls into the alms silver bowls, which the monks carried. Once the bowl was full, the monks had to return to their temples.

There is another theory which explained that alms round or Pindapata has got various definitions. Theravada(Major branch of Buddism)  explained that Bhikkhus (pinda); bowl (pata)Fact to go to receive some food within the bowl while silently waiting**

Some might think the monks are walking around begging however the Buddhist community views it differently. It is considered that the food offering is a tool which enables us to perform the simplest of humanitarian kindness', that of to learn how to give and let go. The monks are demonstrating humility and detachment from worldly goods.

The alms round ritual is a familiar sight in Thailand but it is quite a different yet beautiful experience to see these three monks in their traditional Buddhism robes with the backdrop of University of Leeds Parkinson Building behind them.

I asked Phramaha Akkaporn if he had ever received unpleasant reactions from any pedestrians. He replied not, only that some people might look or politely stop and ask the monks due to curiosity. He continued that he always receives only warm welcomes. Phramaha Akkaporn told me that there had been a couple of people who had stopped them and offered to buy them shoes. This kind gesture from wonderful strangers…hard to find in this modern day.