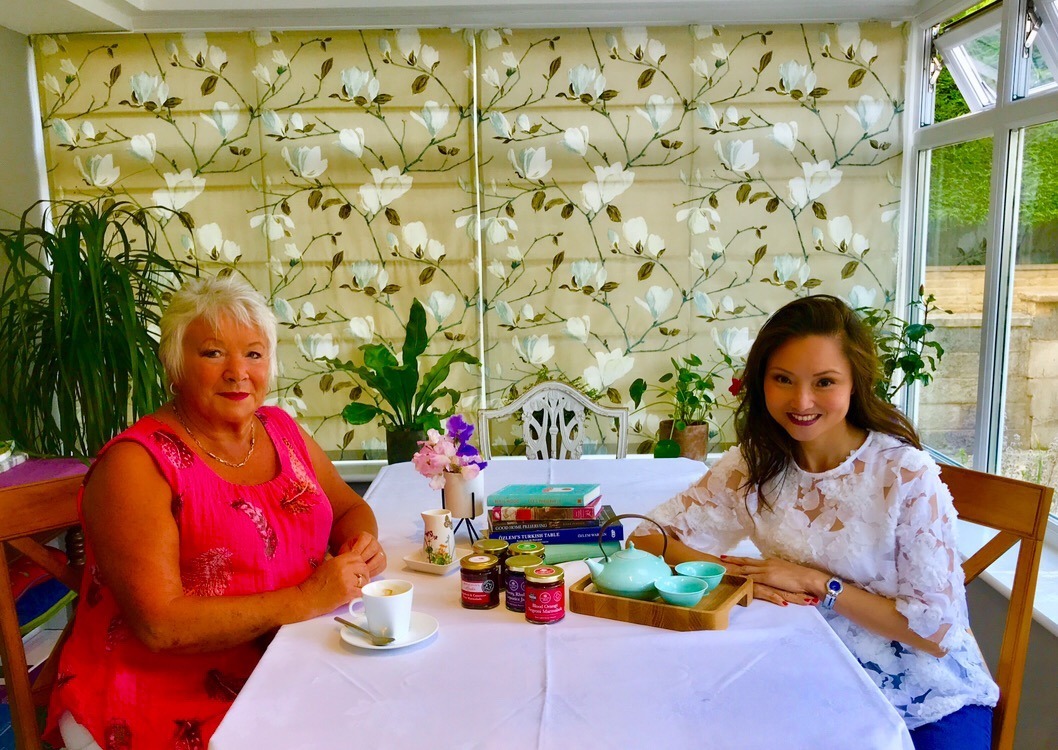 01 Nov

SOMETHINGS JUST GET BETTER WITH AGE

It was an honor that a multi-award-winning artisan food producer from Middlesbrough, Rosalind Waugh spent time with me in the Thai Cooking Class Leeds Kitchen. Rosalind is a retired consultant radiographer. She was one of the first radiographers in UK to develop this advanced practice role, where radiographers undertook procedures previously done by doctors (radiologists).
After almost 50 years in the NHS, Rosalind decided to start all over again at age 67. She moved her focus to the world of making preserves. 

Rosalind's products have won multi awards including three Great Taste Award in 2018, one in 2019 from Guild of Fine Food UK and three Dalemain Marmalade Awards.

Marni: How did you start your new love of preserves?

Rosalind:" I felt quite lost when I retired, as I had always been busy at work and was amongst lots of people. I had also missed that other love of my life, golf, having stopped playing in 2014 due to a bad Achilles injury. In preparation for retirement, I had got an allotment when I was 63 then and started making chutney and devising unusual recipes filled a void in my life after such a busy work life. I love cooking, being taught by my Italian mother. She taught me the value of using herbs and spices in dishes. So, I have never been afraid of using them" Her newfound love in making preserves upsets her husband a little "Because I am never out of the kitchen" Rosalind laughed happily. "It worries him, so I need to make sure that I get out of my kitchen from time to time"Rosalind sells her homemade products at farmer's markets and events, as well as having some stocked in some shops and delis.

Rosalind is active and far from a typical 71 years old lady. Rosalind manages her own social media page Rosalind's Larder, embracing this millennial trend very well. Her account allows members to talk about anything to do with food. "However, I do get distracted by social media when I am in the house, so I have to be strong…. really strong and avoid checking our posts"  Strong! I have no doubt that Rosalind's solid work ethics helped so many patients and colleagues when she worked for NHS. " I became a trade union representative as a very young radiographer early in the 1970s, fighting for years for better working conditions. Red Ros, they called me" Rosalind giggled  " When the hospital status changed to being a Trust, I became a staff side secretary for all the trade unions in the hospital. I was heavily involved in battling against government policy, as well as developing my own professional role. It was a hard time for me"

With 7 international award-winning products under her belt, this northern lady has proved to be a fantastic artisan food producer.

As an oriental woman who knows nothing about preserves, I always want to learn how to make chutney.
And how lucky am I, to be taught from the master? Today Rosalind taught me to how to make an East meet West –Hot Chilli and Carrot Chutney which she handpicked the ingredients and equipment.
"Most of my ingredients are from an allotment or locally sourced. In terms of equipment, you have to use a narrow bottomed Maslin pan to make chutney.
This is in order to allow the vegetable and fruit to cook slowly and develop flavour.
With jam, a wide-bottomed Maslin pan is used so that the fruit will cook more quickly
and retain a fresh taste"
Rosalind's Larder Hot Chilli and Carrot Chutney:


Serve:6 jars of 250 ml


Ingredients:


500 gram                      Carrot-coarsely shredded
400 gram                      Light Brown Sugar
50 gram                        Mustard seeds
50 gram                        Fresh ginger-grated
20 gram                        Tomato puree
5 gram                          Coriander seeds
4 gram                          Cumin powder 
4 gram                          Sea salt    
2 gram                           Black pepper
500ml                            Cider vinegar
40 ml                             Olive oil
10 ml                             Balsamic vinegar
4                                    Fresh hot chillies-finely chopped
2 lemons                         Lemon juice and zest
1 teaspoon                      Chilli powder (add more if you like it hotter)
Method:
-Gently fry the mustard seeds, coriander seeds, cumin powder, and fresh hot chilli
in the olive oil.
-Stir and keep an eye on the spices as they are easily get burnt.
Usually, it will take approx. 2 minutes until all ingredients infused.
-Add the chilli powder, salt and black pepper and fry briefly.
-Add the shredded carrot, grated ginger, lemon zest and cook for further 5-8 minutes.
-Add the light brown sugar, tomato puree, balsamic vinegar and lemon juice.
Stir all the ingredients well.
-Add the cider vinegar and simmer until the carrot soften and the liquid has reduced and thickened slightly.
-Leave it to cool and transfer into the sterilized jars.
 Tips from Rosalind:
-Chutney needs to be cooked slowly for the flavour to develop while it's thickened. However, be very careful as it can get easily burnt
– Use the metal spoon for the chutney as you can't get rid of the strong smell from its easier than a wooden spoon.
– Sterilize jars by washing and rinsing in washing up liquid and hot water and then place in the oven upside down. Dry at 160deg for at least 10mins.
Before we finished Rosalind also gave me another important tip



"You have to leave the chutney for a couple of weeks or so to allow the full flavours to develop"


Something that gets better with age…just like this great journey of Rosalind's. 
Check my other blogs at www.thaifoodmadeeasy.com   
Author: Marni Xuto    
Special thanks to Rosalind Waugh, Puttachat Keassarin and Sue Hairsine for dedicated their precious times with me.