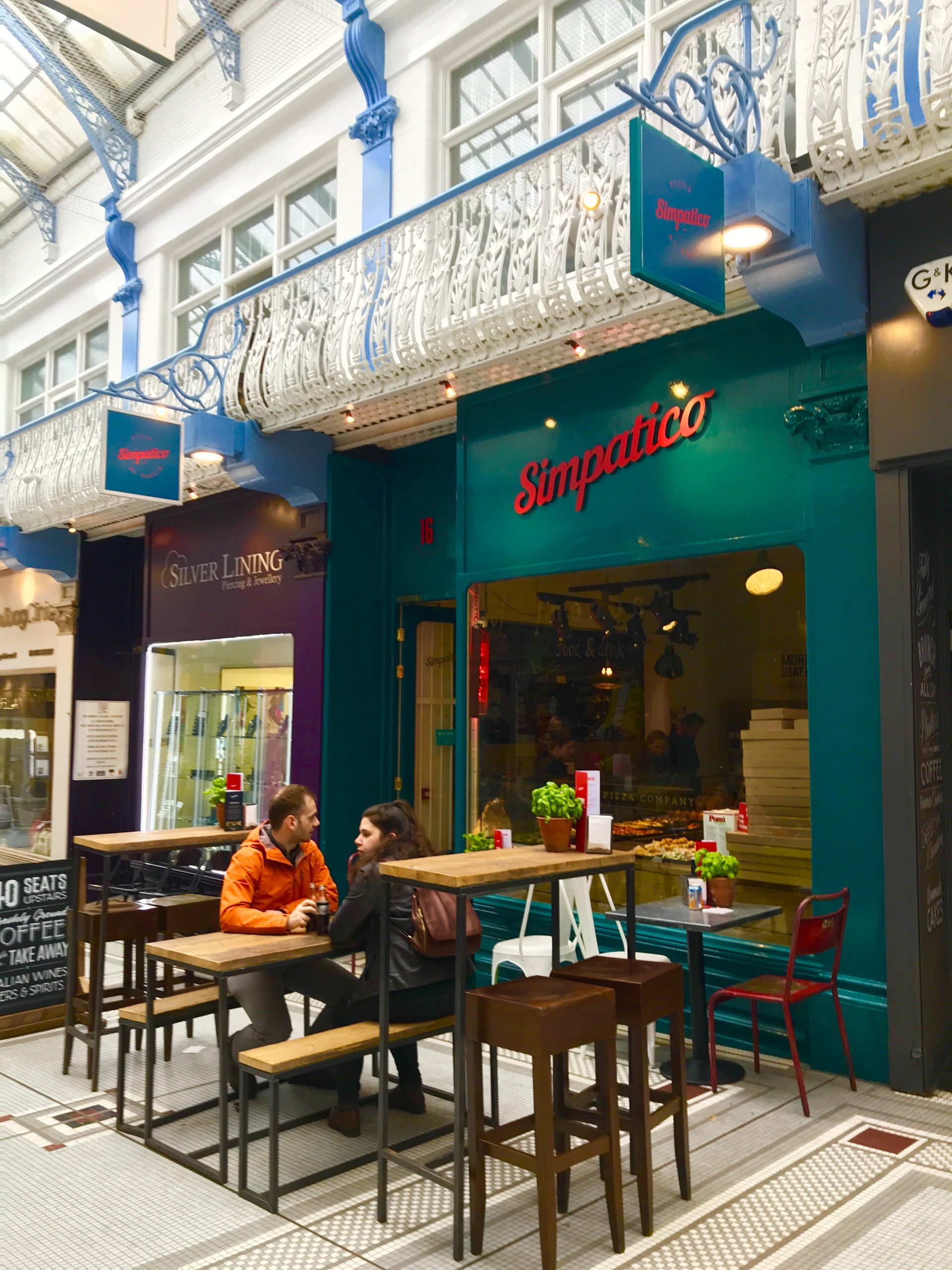 12 May

SAGE ADVISES FROM A SIMPATICO ONE.

I broke another alarm clock this Saturday morning, as I had to get up early and prepare the ingredients for the Thai pizza toppings. I pitched an idea to Simpatico Pizza a little while ago. Fortunately, Nick Julian, the proprietor, kindly agreed that I could spend time with him and do some cooking together.  Nick has been working in the Hospitality and has managed numerous high-end restaurants in the UK and abroad. He was trained under the acclaimed pizzaiolo Cristiano Garbarino.

Simpatico Pizza is located in an important historic place- Queens Arcade in Leeds. I stepped into a che bella space where you can grasp a quality quick bite. This Pizzeria looks small from the outside but is however spacious and airy inside.

The vast array of Italian street food choices laid behind the clear glass counter reminded me of my holiday in Italy. There are lovely looking Arancini, crispy stuffed courgette flowers, which are very pretty vegetarian alternatives to the classic pepperoni pizzas. People always praise them about the service too, friendly yet efficient … just the right pitch.

Nick offered to carry the heavy food bag, which I awkwardly declined. He paid me a compliment whilst we walked up to the stairs, about my latest article printed on our regional newspaper, theEvening Post.

Once we arrived on the first floor where the chefs cook all of the pizzas, Nick showed me the oven, which he brought over from Italy. He said, "It took 8 men to bring it up to hear". He told me about his background in catering, another business venture- Union Square Bar and Kitchen, while we prepared our Thai Seafood Pizza together. He explained about the different type of pizzas shapes, dough, toppings, oven types and… of course I remember them all….NOT.

Behind the casual appearance of this Leeds businessmanIcouldsense the drive to perfection, fiercely strong work ethics and passion for food.

While I listened about his food journey, my eyes couldn't stop wondering to the right side of this monstrous magic pizza-making machine. My gaze took me to a bunch of dry sage, which was hanging just above the workstation. The medieval European herb of resilience, thrive best in tough condition. Sage was thought to strengthen memory and promote wisdom.

I asked him what his plan was for the future. He replied, "When I was younger I wanted to open lots of restaurants and take on the world, now I am happy serving my favourite food in my home city"

A sage statement from a humble simpatico one. Una Buona Esperienza !  is how I sum it all up.

Check my other blogs at www.thaifoodmadeeasy.com   

Author: Marni Xuto    

Special thanks to Nick Julian. Also my life long friends Rassamee Verdina Scilef for Italian tips and Dominique Eves for British wit.