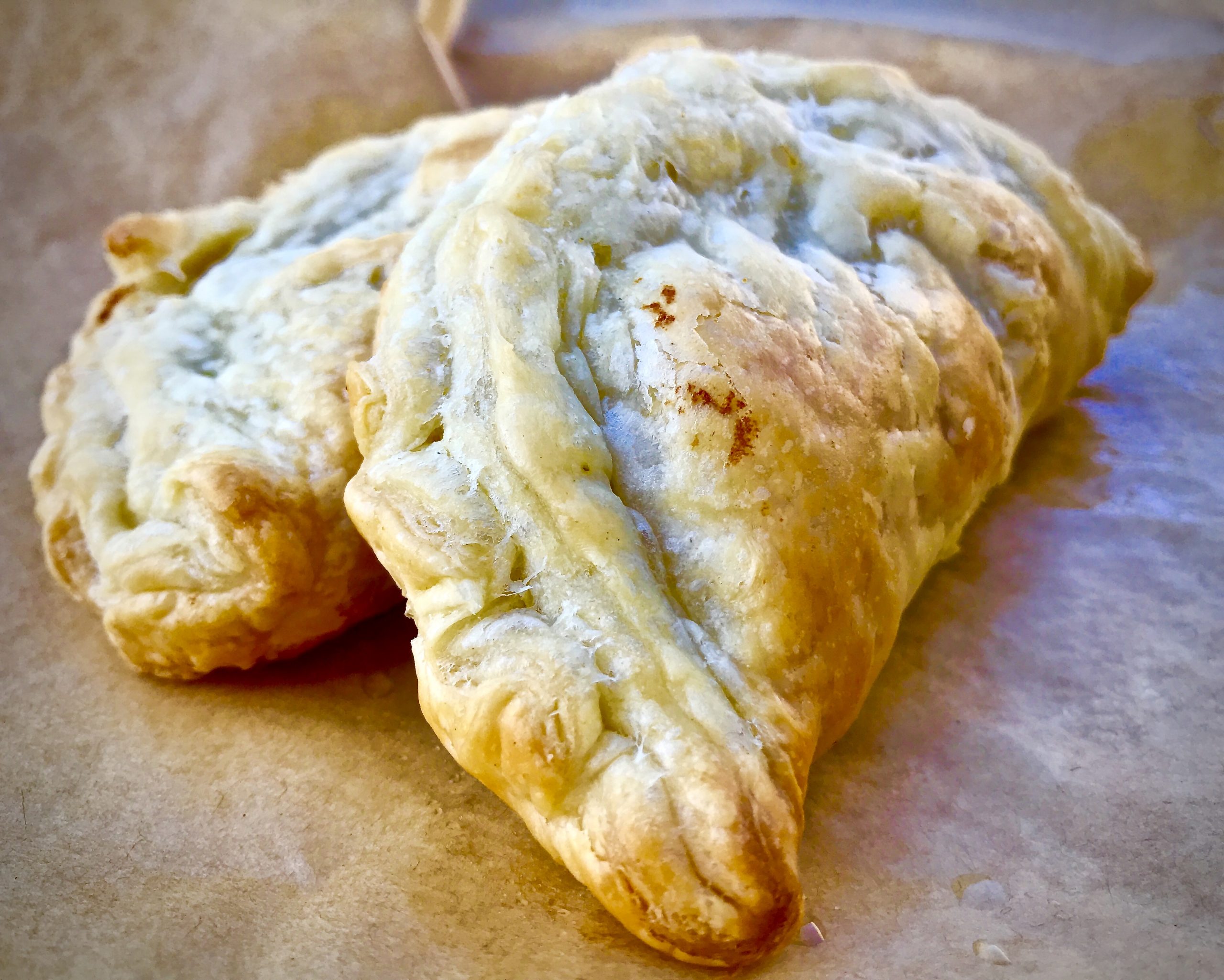 04 Mar

CURRY PUFF

CURRY PUFF:

It is almost a school holiday and I need to keep my daughter busy. What is better than having some quality time with her whilst producing something delicious in the kitchen together?

Curry puff is such a great way to introduce your kids to spices. It might look nothing like Thai food but believe me when I say It is one of the most common snacks for Thais and people in South East Asian countries. 

There is a theory that Curry Puff (pronounce Ga-Ree-Pup) was brought to Thailand in Ayutthaya period in the reign of King Narai (1633–1688) by Portuguese-Japanese-Bengali lady Maria Guyomar de Pinha * She introduced and created a vast range of Thai desserts and snacks.  Curry Puff is one of them.

This history of Curry Puff is an ultimate example of how a recipe can be adapted to suit the community and turn out it plays an important part of that culture. On the other hand, a good recipe can transport you to the beautiful memory, trigger imagination and all the senses.

The original Thai Curry Puff is made from two layers of handmade pastry which creates a light, crispy shell for an aromatic, mildly hot and tasty filling. There is a mini version of the Curry puff too which has a sweeter filling and is called "Pan-sip-tod". It has a sweet and salty taste, which is such a winning combination. I can eat them all day long.

For my version of Curry Puff, you can choose either to bake or fry them. Baked Curry puff will give you the ultimate light, fluffy consistency and allows the spices to cut through the buttery taste. A fried Curry Puff will create a crisp, heavier and satisfying taste, which is great when served with chutney and a leafy salad.

I use the pre-rolled pastry to keep the process simple. This also saves you time so you can enjoy your time with your little one/s a bit more.  Not to mention that it is a great snack for a picnic on the hot summer day. Happy Cooking!

Curry Puff

Serve: 3

Ingredients:

200 gram                                  Chicken breast-cut into small cubes

250 gram                                  Cooked potato-cut into small cubes

2 rolls                                         Ready rolled puff pastry

2 cloves                                      Garlic-finely chopped

75 gram                                      White onion-chopped

25 gram                                      Red Onion-chopped

1tsp                                              Curry powder

1tsp                                              Sugar

1/2tsp                                          Garam masala

1/2tsp                                          Ginger puree

1/2tsp                                          Salt

1/2tsp                                          Ground black pepper

1 cube                                          Chicken stock cube

50ml                                            Water

100 ml                                         Oil of your choice

Method
Preheat the oven to 200 Celsius.
Remove the pre-rolled puff pastry from the fridge and leave it in the room temperature.
Heat 25 ml of oil in the frying pan. Then add the white onion and red onion. Gently fry the onions until they turn translucent.
In the same pan, add the chicken, stir for approx. 5 minutes. then in goes the garlic, curry powder, garam masala, ginger puree, salt, pepper, and sugar. Keep stirring until the mixture becomes slightly dry.
Put the potato and cook a further 5 minutes.
Mix the chicken stock cube with warm water. Pour it into the pan. Stir and simmer until all the liquid reduces and the mixture is dry. Then set aside.
Roll the puff pastry out. Use the kitchen ring (4-inch diameter) to cut the pastry. it should make approx. 12 circles from 2 rolls.
Scoop 1-2 tablespoon of curry mixture and put in the middle of the round puff pastry. Fold the pastry into half and seal the edge with the fork or turn and pinch to close the edge well.
From here it is completely up to you how you cook your Curry puff. You can either fry in the remaining oil (75 ml ) approx. This takes 1-2 minutes to fry on each side. Alternatively, brush the curry puff with oil or egg wash then bake it for 15 minutes at 200 Celsius.
Tip:
If you decided to fry the Curry Puff, make sure that you constantly keep an eye on it while frying as it can easily burn.
Don't have a kitchen ring? You can use the knife to cut the puff pastry into a square shape. Then fold the triangle parcel.
Don't put the puff pastry dough next to the oven. The heat will make the pastry too soft to shape.